Hoopeston Area Families, As we near the end of another school year, I want to thank you for your patience, hard work and dedication to your child's education. All of us have had to do more to get through this pandemic. Thank You. I would encourage you to continually look on the District website over the summer months for information regarding next school year. We will also be putting out a second virtual public forum with information of happenings within the District. School days remaining: Today Tuesday May 18 - Friday May 21 12:20/1:05 dismissal times Monday May 24 Remote Planning Day (No Student attendance) Tuesday May 25 12:20/1:05 dismissal times Wednesday May 26 Teacher Institute (No Student attendance) Thursday May 27 12:20/1:05 dismissal times (last day of school) If you have questions regarding any of the dates for the remainder of the school year or questions regarding the Intensive Intervention Summer Program or summer school, please contact your child's school office for clarification.
COVID-19 12-17 year old Vaccination Clinic Requirements We have to have a parent or legal guardian sign for the consent forms. I have listed a few scenarios: Parents bringing in their own children – no documentation needed (if a grandparent is bringing the child for the parent, they will need medical power of attorney documentation, not just a permission note.) Foster Parents – foster care documentation needed Someone, not the parent, but has Medical Power of Attorney for the child is acceptable Someone who is the legal guardian and has the court documentation. If a child comes who is homeless, at risk, etc who has a McKinney Vento Documentation plus a social worker or court ordered person with them to sign, that is acceptable. We will need a copy of all documentation for our records. Thank You!
Vermilion County Health Department COVID19 Vaccine Clinic Schedule Appointments Highly Recommended, but Walk-ins Welcome (see times for walk-ins for each appointment day and walk-ins will be determined by current supplies) We have removed the requirement for a Voucher Code on All Upcoming Appointments, so you should not need to enter a Voucher Code anymore to make an appointment. Pfizer Vaccine Clinics for 12-17 year old VERMIION COUNTY STUDENTS ONLY – REGISTRATION IS NOW OPEN The FDA and ACIP have approved Pfizer Vaccine for individuals 12 years old and up. We are asking that you register your child so that we know how much vaccine to have on hand. We will allow some walk-ins, but that will be dependent on supply. Walk-ins should come no later than 30 minutes before the end of the clinic. If you do not register, we cannot guarantee a vaccination at this time. You will be able to register online or you can call 217-431-2662 ext. 263 or 264. NOTE: Do not call the schools to register as registration will be through the health department. We will be having clinics at the following locations on the following dates: PLEASE READ THE BELOW QUESTIONS (at the end of the blue section) BEFORE SIGNING UP FOR YOUR VACCINE TO MAKE SURE YOU CAN GET A VACCINE. You will be asked screening questions prior to receiving your vaccine and if you answer yes to some of the questions, you may need to wait to receive your vaccine. Please read the Pfizer fact sheet that is also at the end of the blue section. NOTE: Children must have a parent/guardian with them to sign the consent form. Please only have 1 parent/guardian come to the clinic and only the children who will be receiving the vaccine to help with social distancing and flow. You must wear a mask. Hoopeston High School on May 18th May 18th, 2021 (1st Dose) June 8th, 2021 (2nd Dose) 3pm-7pm 615 e. Orange St. Hoopeston, IL Link for Registration:
https://events.juvare.com/IL-IDPH/26b53284-9bf1-41a5-9686-235f92ad4f17
Georgetown High School on May 19th May 19th, 2021 (1st dose) June 9th, 2021 (2nd dose) 3pm-7pm 500 W. Mulberry St. Georgetown, IL Link for Registration:
https://events.juvare.com/IL-IDPH/58b97e51-c0b0-4d88-84aa-ccdfacac6e12/
Salt Fork Junior High on May 21st May 21st, 2021 (1st dose) June 11th, 2021 (2nd dose) 3pm-7pm 7087 N. 600 East. Rd. Sidell, IL Link for Registration:
https://events.juvare.com/IL-IDPH/72b63b7d-26ff-4798-b036-d1b72e299687/
Mark Denman Elementary on May 22nd May 22nd, 2021 (1st dose) June 12th, 2021 (2nd dose) 9am-2pm 930 Colfax Street, Danville, IL Link for Registration
https://events.juvare.com/IL-IDPH/712594df-05af-4128-8257-c6f1d4b03bb1/
PLEASE READ BEFORE COMING FOR YOUR VACCINATION If you have an appointment, DO NOT come more than 5-10 minutes before your appointment. The information below is for all sites. You will be asked to remain in an observation area for 15-30 minutes post vaccination*. Please wear short sleeves. This will make it easier and quicker for people to get through the vaccine station. If this is your 2nd dose (MODERNA or Pfizer), bring your vaccine card back with you. If you have lost your vaccination card, please call the provider that issued you the vaccine card. Moderna and Johnson and Johnson vaccines are only for those 18 and older. Pfizer is for those 12 and older. (a parent / guardian MUST be present to sign the consent form. We will not vaccinate an unaccompanied minor) If you answer "Yes" to being pregnant, you must have a doctor's note saying you can receive the vaccine. You no longer need a doctor's note if you are breastfeeding. *If you answer "Yes" to having a history of allergic reactions, taking blood thinners, or autoimmune system, you may be asked to remain in observation for 30 minutes. If you answer "Yes" to having received passive antibody therapy as treatment for COVID-19, you will need to WAIT 90 days after initial infection before getting your vaccine. If you answer "Yes" to having a vaccine in the last 14 days, you must wait 14 days after your last vaccine to receive the COVID-19 vaccine. If you are currently in isolation due to a current infection with COVID-19, you CANNOT receive the vaccine at this time. If you are currently in quarantine due to exposure, please wait until you have been released to receive the vaccine. If you have a fever or are currently ill, you CANNOT receive the vaccine. Pfizer vaccines should get their 2nd dose after 3 weeks from their 1st dose. Moderna vaccines should get their 2nd dose 4 weeks from their 1st dose. If you have had COVID19 in the last 90 days, Vaccination can be offered, but could also be delayed 90 days if desired. Fact Sheet for Moderna COVID19 Vaccine Fact Sheet for Johnson and Johnson COVID19 Vaccine Fact Sheet for Pfizer COVID19 Vaccine
Hoopeston Area Families, Another opportunity to receive the COVID-19 Vaccination for individuals 12 - 15 years of age. Follow the directions on the image below.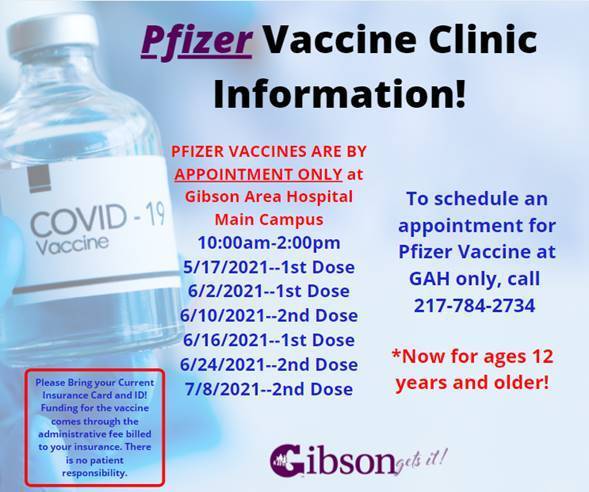 Age 12 - 15 Vaccination clinic Hoopeston Area CUSD #11 will be partnering with the Vermilion County Health Department to host a COVID-19 vaccination clinic for individuals 12-15 years of age on May 18 from 3 - 7 pm in the HAHS Auditorium. A second dose clinic is to be scheduled for June 8. Vaccinations will be dependent on vaccine supply and final approval. Information to register will be available hopefully no later than Thursday on the
www.vchd.org
website. The U.S. Food and Drug Administration expanded the emergency use authorization (EUA) for the Pfizer-BioNTech COVID-19 Vaccine for the prevention of coronavirus disease 2019 (COVID-19) caused by severe acute respiratory syndrome coronavirus 2 (SARS-CoV-2) to include adolescents 12 through 15 years of age. The FDA amended the EUA originally issued on Dec. 11, 2020 for administration in individuals 16 years of age and older. "The FDA's expansion of the emergency use authorization for the Pfizer-BioNTech COVID-19 Vaccine to include adolescents 12 through 15 years of age is a significant step in the fight against the COVID-19 pandemic," said Acting FDA Commissioner Janet Woodcock, M.D. "Today's action allows for a younger population to be protected from COVID-19, bringing us closer to returning to a sense of normalcy and to ending the pandemic. Parents and guardians can rest assured that the agency undertook a rigorous and thorough review of all available data, as we have with all of our COVID-19 vaccine emergency use authorizations."
Hoopeston Area Families, If you would like to be on the list to receive remote meals, email
remotemeals@hoopeston.k12.il.us
before noon on Tuesday with the child's name and grade currently attending to be put on the list. Remote meals are ready for pick up on Wednesday night from 5-6 behind the high school.
The Hoopeston Area School District is saddened to announce that today we received word that one of our high school students passed away. Throughout today the Hoopeston Area counseling department and Hoopeston Ministerial Association were available at the high school and the middle school to provide support and counseling services to our students and staff. Counseling services will continue to be provided as needed as our students, staff, and district work through this very difficult time.
Hoopeston Area Families Project Success Reminder Project Success does not operate on Fridays.
Hoopeston Area Families, Hoopeston Area CUSD #11 Board of Education and Administration is creating an opportunity for community stakeholders to have their questions answered. A HA Virtual Public Forum will begin in late April with quarterly segments highlighting important information about the school district, including a segment to answer questions. The first HA Virtual Public Forum is scheduled for release April 23. Please have your questions submitted a week in advance. To submit questions, send your question in an email to
forumquestions@hoopeston.k12.il.us
. Further information will be provided regarding how to access the HA Virtual Public Forum.
Dear Hoopeston Area Parents or Guardians, The State of Illinois is approved to provide new Pandemic Electronic Benefits Transfer Program (P-EBT) benefits to all eligible Illinois students. Families in our district qualify for P-EBT because we are a school that participates in the National School Lunch Program's Community Eligibility Provision (CEP). You do not need to complete an application to receive these benefits. Please note that citizenship status does not affect eligibility. What action needs to be taken now? At this time, it is very important for all families to ensure that the mailing address on file at your enrolling school is current. A complete mailing address will be needed to receive the P-EBT issuance in the near future. What is P-EBT? The purpose of P-EBT is to provide food assistance to families with students who would have received free or reduced lunch while attending school but are not receiving these meals in school due to COVID-19 restrictions. Who is eligible for P-EBT benefits? The following students are eligible for P-EBT benefits for School Year 2020-21. Students must be enrolled in an eligible NSLP participating Illinois school and; Students must be determined eligible to receive free/reduced lunch for the 2020-21 school year or enrolled in a Community Eligibility Provision (CEP) school and; Students are P-EBT eligible on school days in which a reimbursable meal was not provided to the student to consume at school. When will I receive the benefits? The Department of Human Services should begin issuing new P-EBT cards to all known eligible students in March 2021. Please note that all eligible students will receive benefits for all eligible school days, back to the beginning of this school year. If you need to change the address on file for your child(ren) please log into your InfoNow parent portal to update the address. If you have questions concerning P-EBT, please contact Chrissy Coffman at 217-283-6663. Thank you for your time to this matter.

Hoopeston Area Families, This is Superintendent Robert Richardson with an important announcement. Due to inclement weather conditions the Hoopeston Area School District will be closed for Tuesday February 16th. All practices and extracurricular activities are canceled as well. Be safe and enjoy your snow day.
Hoopeston Families, The start date for all Hoopeston Project Success sites has been postponed to April 5th. The Teen Reach program will run until April 5th for students K-8. We apologize for any inconvenience this may cause. We look forward to seeing you then!
Hoopeston Area Spectators, Hoopeston Area Administration is working directly with NFHS network to correct the malfunctions of the camera system. We are hopeful to have the system operating correctly by next week. The boys basketball game "Senior Night" against Watseka scheduled for Saturday will be streamed lived.
How to get signed up: Go to
www.nfhsnetwork.com
Click the person icon in the upper right corner Create an account Scroll down until you see the "Subscribe" button Click Subscribe button You will have two options $69.99 annual pass (can be billed monthly) $10.99 monthly pass (charged monthly, cancel any time) All passes offer access to live regular-season and post-season events On-demand events when available If you choose an annual pass, a portion of the fee will be returned to the school/athletic department (~$19.99 per subscription) When prompted, search for Hoopeston Area Other Information: At this time, we have cameras set up at both the MS and John Greer gyms to stream live indoor events. The hope is to get cameras set up for outdoor events in the future. Away games at most of our conference schools will also be broadcast on the network. At this time no conference school is allowing visiting fans and only allowing limited home fans to attend, so a subscription may be beneficial. In-Person Spectator Information: At this time, in-person home fan capacity is set for 36 spectators at the MS gym and 40 spectators at the John Greer gym. Ticket vouchers for admission to each contest will be given to the players to distribute to their families. Based on the number of athletes participating in each sport, some sports may be limiting athletes to only one ticket per athlete per contest. In order to attend in-person, spectators must be COVID screened and present that night's event ticket voucher at the door prior to entry. Spectators will also be asked to provide their name and contact number to the ticket takers upon entry in the event that future contact tracing would be required. At entry, spectators will be given an assigned seat number that they will be expected to sit in during the contest. All spectators are mandated to wear a mask at all times while in the building. If a spectator leaves for any reason, they will not be allowed back into the building. Doors will open 30 min prior to the game start time. No concessions will be sold but a vending machine for drinks will be available at the MS gym.
Hoopeston Area Families, The Middle school has experienced positive cases and a large number of required quarantines. We will be moving all sixth grade learning to remote beginning tomorrow Friday January 29 through February 11. In-person learning for sixth grade will resume on February 12.
Good Morning Hoopeston Area Families, Due to the icy road conditions Hoopeston Area CUSD #11 schools will be closed today Tuesday January 26, 2021. Thank You, be safe and have a great day.
Meal distribution for remote learners will begin for second semester on January 6, 2021. Remote learners requesting meals for 2nd semester should sign up by sending an email to
remotemeals@hoopeston.k12.il.us
. Please be sure to include student name(s), as well as the location you will be picking up the meals. Locations include Rankin Lion's Club, East Lynn Fire Station, Wellington Post Office, or behind Hoopeston Area High School. Meal distribution will resume on January 6th.

Hoopeston Area High School and Middle School are proud to present the virtual band and chorus Christmas concert. Please follow the link below to watch. The video will also air on New Wave Cable Channel 16 starting at 1:00 pm and play throughout the rest of the day. #CornjerkerPride
https://youtu.be/sGTwT5P6Rbg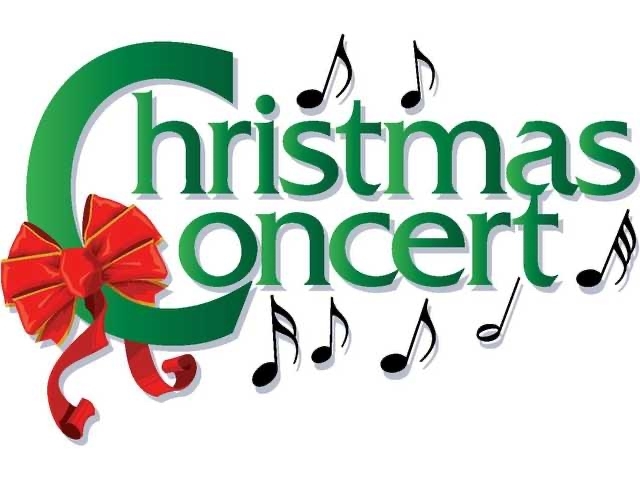 As we enter the 2nd semester, we ask that remote learners requesting remote meals for the new semester please sign up by sending an email to
remotemeals@hoopeston.k12.il.us
. Please be sure to include student name(s), as well as the location you will be picking up the meals. Locations include Rankin Lion's Club, East Lynn Fire Station, Wellington Post Office, or behind Hoopeston Area High School. As a reminder, remote meals will not be distributed on Wednesday, December 23rd, or Wednesday, December 30th. Meals will resume on January 6th.