1:1 TEACHING AND LEARNING ENVIRONMENTS AT HOOPESTON AREA SCHOOLS
In 2014-15, John Greer Grade School piloted a 1:1 teaching and learning environment in four classrooms. The pilot was a huge success. In 2015-16 all students in grades 3-8 have Chromebooks and learn in a 1:1 environment. By 2016-17 all students in grades 1-12 will have devices that support 1:1 teaching and learning in the classroom.
Hoopeston Area School District has made the commitment to issue each student with a district-owned Chromebook or other device to use while they are enrolled in the district. Students are responsible for the care and maintenance of their devices during the school day. If a student damages his/her device, the student will be responsible for the cost to repair the device, but a loaner will be issued to the student while his/her assigned device is being fixed.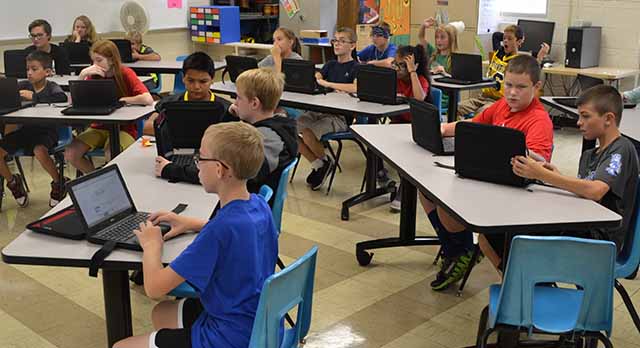 The nature of information and knowledge is changing.

Students learn differently today.

Education has to become more than just standardized tests.

We live in a digital age, dominated by information that sees technological advancements. happening at an exponential rate.

We must prepare students for their futures, not our pasts.

All the time easy access to technology – "everywhere learning"

True student and teacher ownership = strong sense of responsibility and desire for continuous professional development and excitement for technology integration

Increased critical thinking opportunities

Valuable instructional and assessment tool for teachers and students

Opportunities for online textbooks and up-to-date access to information

Increased student-centered learning

Enhanced student and teacher collaboration

Increased student engagement, accountability, and creativity

Reduced printing costs, paper usage, photocopying, and textbook purchases

Increased opportunities for interdisciplinary learning

Increased opportunities to differentiate instruction
ATTRIBUTES OF A CHROMEBOOK:
Lower cost of ownership than traditional laptops